When e-commerce retailers think of the customer experience, they think about creating a smooth, easy process for their customers from start to finish. What you may overlook, though, is the part that your payment options will play in that experience.
You want customers to enjoy both safety and convenience with your purchasing process, and P24 could be a way to improve both of these for your Poland-based customers
What Is Przewely24?
Przewely24, often called P24 for short, is a unique online payment system. It transfers funds directly from the customer's bank to you rather than requiring a debit card or credit card. While there are other bank transfer systems in different parts of the world, P24 specifically serves Poland.
P24 partners with large and small banks across Poland. Anyone who has an account with a bank that partners with P24 is able to use the service to make a payment.
How Does P24 Work?
The P24 system is surprisingly simple. As a retailer, you begin by registering and setting up P24 as a payment option on your site.
When a customer goes to check out and make their purchase, they can choose P24 as their payment method. It will then allow them to select their bank from the list of P24's partner banks.
From there, the system will redirect the customer to their own bank's online banking portal. When they log in, they see a transaction form with the amount and other details already filled in. All the customer needs to do is to confirm the transaction and then verify it by entering a secure code that they receive in their texts or emails.
At this point, the bank immediately deducts the funds from their account. They are redirected back to your payment page where it shows that their payment is complete.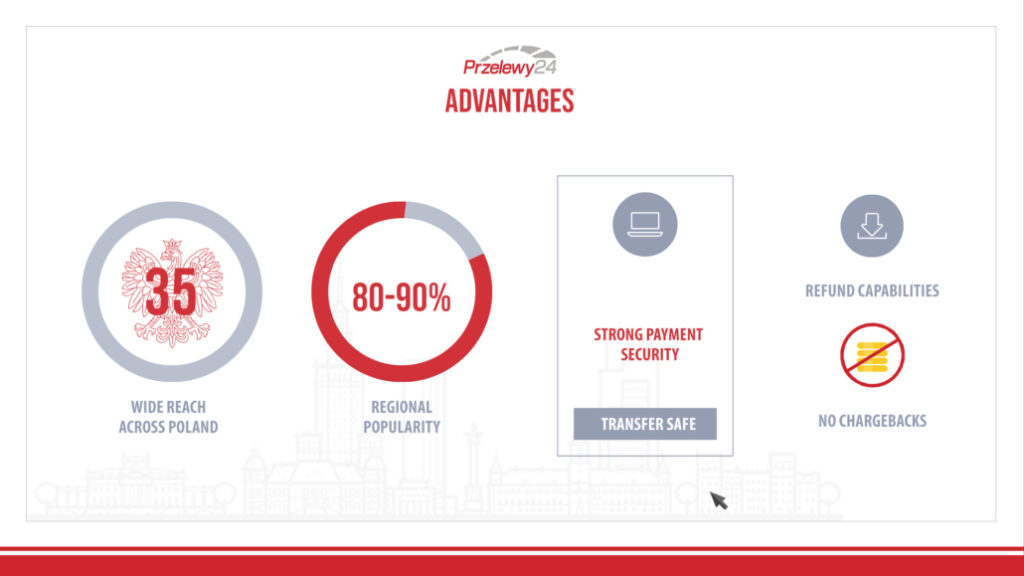 Advantages of Przewely24
Deciding which payment methods to offer on your ecommerce site involves understanding and weighing the pros and cons of each system. Fortunately, P24 has plenty of advantages to offer:
Wide Reach Across Poland – P24 partners with a stunning 35 banks throughout Poland. That includes all Poland's major banks and accounts for a large percentage of the country's population. In other words, if you want to capture Polish customers, P24 will help you reach them.
Strong Payment Security – Security is a serious concern for customers when they shop online, and some customers will choose one e-commerce store over another because of their payment security. P24 is a compelling payment system to offer because none of the customer's personal information is given to your site. They complete the transaction in the same secure online banking portal that they always use, so their safety and privacy are well-protected.
Regional Popularity – While there are customers around the globe who appreciate the added security of bank transfers, this payment method is especially popular in Poland. In fact, as many as 80-90% of online payments in Poland use bank transfer systems like P24, so your customers are already familiar and comfortable with these types of transactions.
No Chargebacks – Chargebacks are risky for e-commerce retailers because in many cases, customers' claims are granted with little or no evidence, their purchase is reversed, and you're left without your product or the money. With other fees, retailers often lose up to three times the purchase amount for each chargeback. P24, however, doesn't perform chargebacks so this isn't a risk for P24-processed transactions.
Refund Capabilities – While P24 doesn't issue chargebacks, the platform does allow you to grant a refund if you choose. You can refund full or partial purchases with a direct transfer to the customer's account. It's worth noting, though, that there is a 180-day limit for refunds, so be sure that your policies don't conflict with P24's capabilities.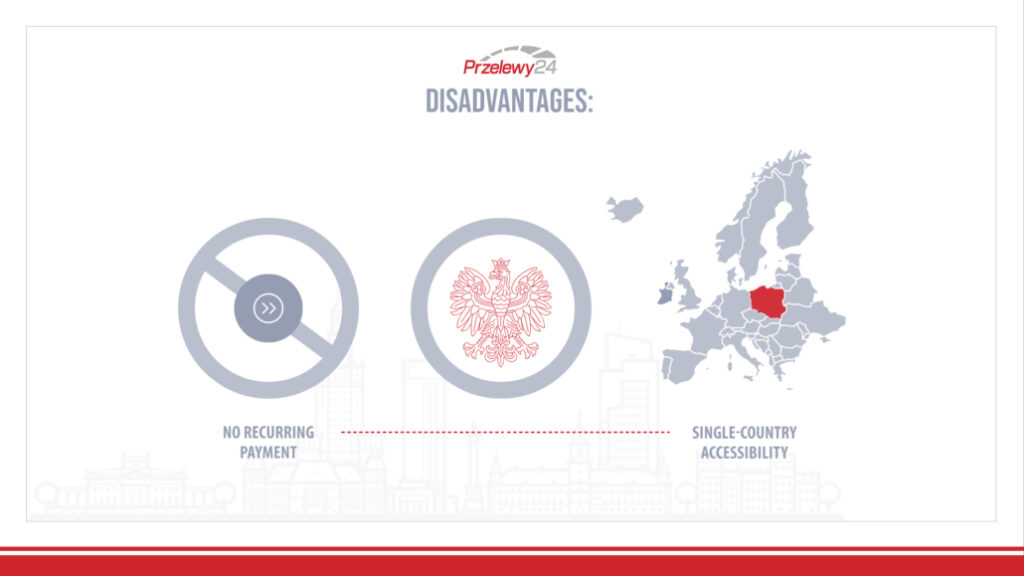 Disadvantages of Przewely24
While P24 has plenty of advantages that make it a valuable option for customers and e-commerce retailers alike, no payment method is perfect. There are some limitations to keep in mind if you're considering adding P24 to your store:
No Recurring Payments – P24 and systems like it are designed around payment security and giving the customer more control. Each transfer through P24 needs to be initiated separately, and because of this, the system is not capable of processing automatic recurring payments. This can be a roadblock for e-commerce businesses with a subscription model.
Single-Country Accessibility – Part of the beauty of e-commerce is that you have a far wider potential customer base. Depending on your shipping capabilities, every person throughout the world could be a customer. This is why it's best to offer a variety of payment methods, so customers everywhere can complete safe transactions. While P24 is terrific for Polish customers, it only works for the banks that partner with it, and these are only banks in Poland. While P24 can be a helpful addition to your payment options, you likely don't want to rely on it as your only choice.
Overall, the advantages seem to far outweigh the disadvantages, but having a clear understanding of both will help you make sure P24 is the right addition to your store.
How to Add P24 to Your E-Commerce Shop
Operating a successful business starts with one simple principle: having products your customers want and providing them with as smooth and comfortable of a process as possible. If you have a significant Polish customer base (or if you want to expand your customer base in Poland), adding P24 to your payment options could be a step in the right direction.
If you don't want to juggle a variety of payment systems separately, leave that to our team. Learn more about how Macropay integrates all your payment methods into one e-commerce dashboard so you can offer more safe, convenient options to your customers without adding more work to your schedule.