For so many years, consumers struggled with the frustration of using credit cards for online shopping. The process isn't convenient, and they had to constantly watch their accounts for fraudulent charges because these happened so often. They started looking for better options.
That's when a number of new payment methods started to rise – payment methods that skipped credit cards altogether and found more secure and convenient ways to shop online. iDEAL was one of them, and today it's the most popular way to pay in the Netherlands. In fact, 59% of all Dutch transactions online are processed with iDEAL.
What is iDEAL?
iDEAL is a payment collection method that uses real-time bank transfers. The system connects your shop directly to the customer's bank, instantly verifying that the funds are available and processing the transaction. Online vendors love iDEAL because they can start processing the purchase and sending the merchandise right away without worrying that the charge will be denied later. Meanwhile, customers love it because it's secure and uses their own banking system.
How Does iDEAL Work?
The iDEAL process is simple. When you implement the system, you'll have a button for iDEAL on your payment page. When customers are checking out, they select iDEAL and then select their bank. This sends the transaction details to the customer's bank.
The page then redirects the customer to their online banking site, where the transaction details are already there and waiting for them. They complete the remaining information and click to make the purchase.
From here, the bank immediately verifies the purchase and removes the funds from the customer's account. iDEAL then informs you that the transaction is approved, and you can begin preparing to send the customer's purchases. You then receive the funds approximately one to three days later, though this can vary.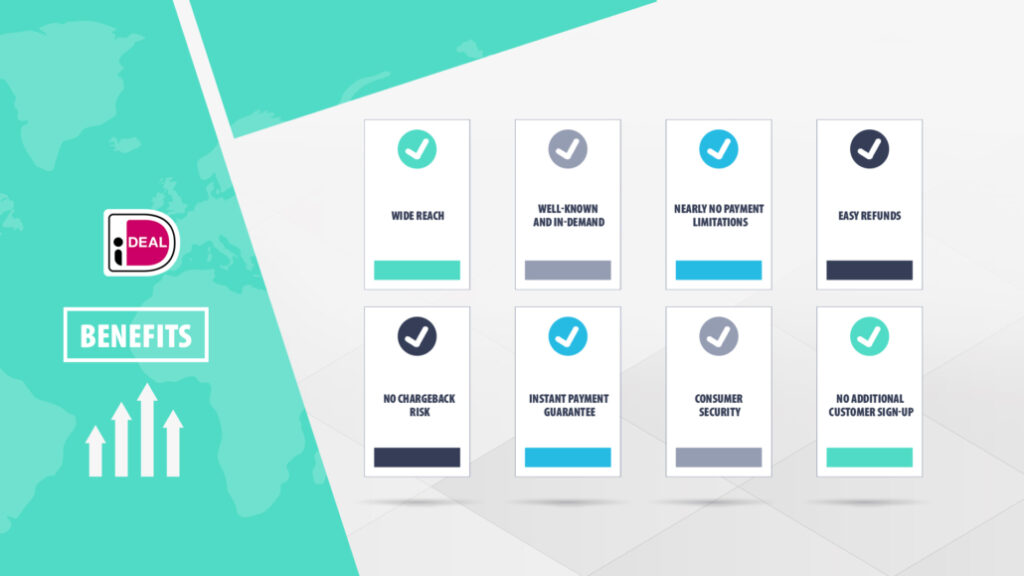 Advantages of iDEAL
As you select payment options for your ecommerce shop, it's important to weigh the pros and cons of each choice. Fortunately, if you have Dutch customers, iDEAL has plenty of pros.
Wide Reach – iDEAL is extremely widely used in the Netherlands. In fact, every major Dutch consumer bank participates in iDEAL. This allows you to better appeal to the majority of Dutch consumers.
Well-Known and In-Demand – One of the challenges with ecommerce is trust and security: if customers don't feel that their transaction with you is secure, they're not likely to make a purchase. In the case of iDEAL, not only is it available to a large number of people but it's already used and trusted by many of them as well. Your customers already want iDEAL so it's a simple matter of whether or not you oblige.
Nearly No Payment Limitations – For payments made with iDEAL, the minimum amount is only €.01, and the system itself has no maximum payment amount. This offers great flexibility to retailers at any price point. Keep in mind, however, that some banks do place their own maximum limits on transaction amounts even if iDEAL doesn't.
Easy Refunds – There's always a chance that after a customer makes a purchase, you'll discover that you're out of stock or there will be another problem that might warrant a full or partial refund. Unlike some bank transfer systems, iDEAL allows you to easily process a refund directly through the system rather than creating an entirely new transaction.
No Chargeback Risk – Chargebacks are a constant worry for ecommerce retailers and anyone who accepts digital payments. Customers can claim that the transaction was fraudulent and in an unfortunate number of cases, the credit card company or payment system reverses the charge even if the retailer shows proof that the transaction is legitimate. With iDEAL, there is no option for a chargeback. If customers want a refund, they need to communicate with you, and you can determine whether to grant the refund.
Instant Payment Guarantee – When a customer completes their transaction with iDEAL the funds are immediately removed from their account. While it takes time for the funds to reach your own bank, iDEAL guarantees the success of the payment in the meantime. In other words, you don't need to worry about the transaction failing after you've already sent the merchandise because it's either approved or denied instantly and it carries a direct payment guarantee from iDEAL.
Consumer Security – Ecommerce is a competition, and one way you're competing with others is in the security world. If customers have a choice between two retailers and one offers a more secure payment solution, that's the one they'll choose. Customers feel safe using iDEAL because it uses their own online banking site which they already know and trust.
No Additional Customer Sign-Up – iDEAL is not only safe for customers but it's convenient for them too. Anyone with a bank account at any iDEAL-participating bank can use the system. They don't need to sign up for the system or create a new account elsewhere.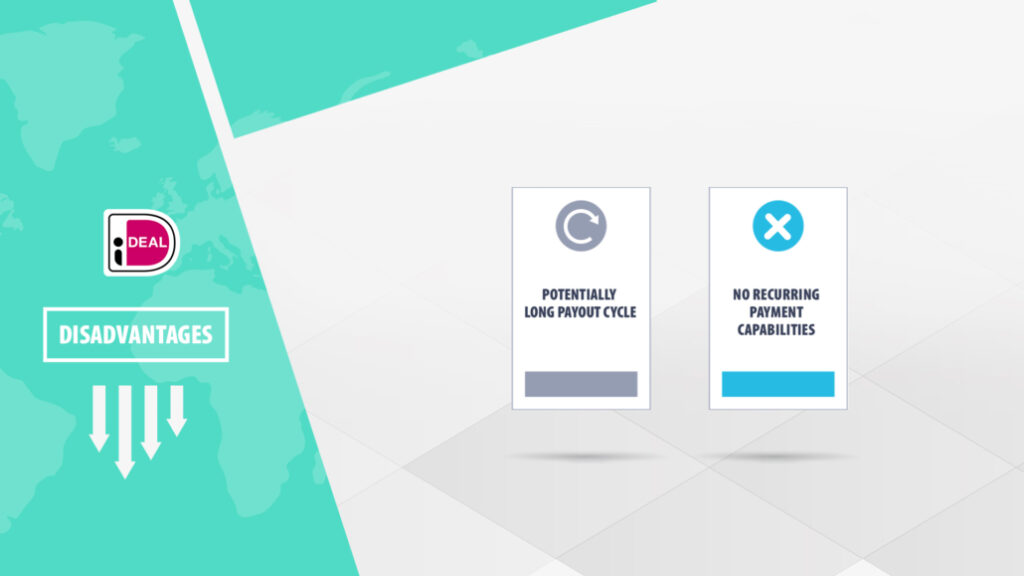 Disadvantages of iDEAL
As many benefits as there are to offering iDEAL, nothing is perfect, so there are a few downsides to consider as well.
No Recurring Payment Capabilities – With iDEAL, as with typical bank transfer systems, there is no option to establish recurring payments. Customers must authorize every transaction independently. This presents a challenge for retailers with a subscription model, as you will need the customer to complete a new transaction each month.
Potentially Long Payout Cycle – When customers pay with iDEAL, it can take iDEAL up to three business days to get the funds into your account, and even this is not a guarantee or a consistent time frame. Some other bank transfer systems reliably have the funds in your account within one business day. While the payment is guaranteed no matter how long the payout takes, this can make it more difficult to manage your cash flow.
Giving Your Consumers Options
For online retailers, there are many factors that your customers weigh before they decide whether to make a purchase, and one factor is whether their payment will be convenient and secure. iDEAL covers both of those bases. To learn more about offering iDEAL to your customers, get a Macropay quote.