Online shopping is becoming the way of the future, with people around the world today buying everything from groceries to cars online. After all, the convenience can't be beaten. Online shopping does come with some security concerns, though, so more customers are looking for payment options that offer more security while maintaining that convenience.
MULTIBANCO is the answer to those calls for the best of both worlds. It's a unique Portugal-wide payment processing network that lets customers complete payments through their own trusted banks.
What is MULTIBANCO?
MULTIBANCO is an interbank network owned and operated by SIBS, a major leader in international payment facilitation. While SIBS operates in many countries, primarily in Europe, MULTIBANCO is specifically a Portuguese network.
How Does MULTIBANCO Work?
MULTIBANCO is a unique type of bank transfer transaction. Customers shop online and when it's time to check out, they receive a payment voucher. This voucher contains all the information they need for their transaction, including a number that links to your bank and the payment amount.
Then, to complete the transaction, the customer can go to their own bank's online banking portal and fill in the information from the voucher, which transfers the money from their account to yours. In addition, customers have the option of going to any ATM in the MULTIBANCO network where they can input the voucher information and use their debit card to complete the transaction.
The full transaction isn't complete until the customer has made their payment. The voucher will have a set expiration date so that if your customer doesn't make their payment before that date, the transaction expires and you do not send their merchandise.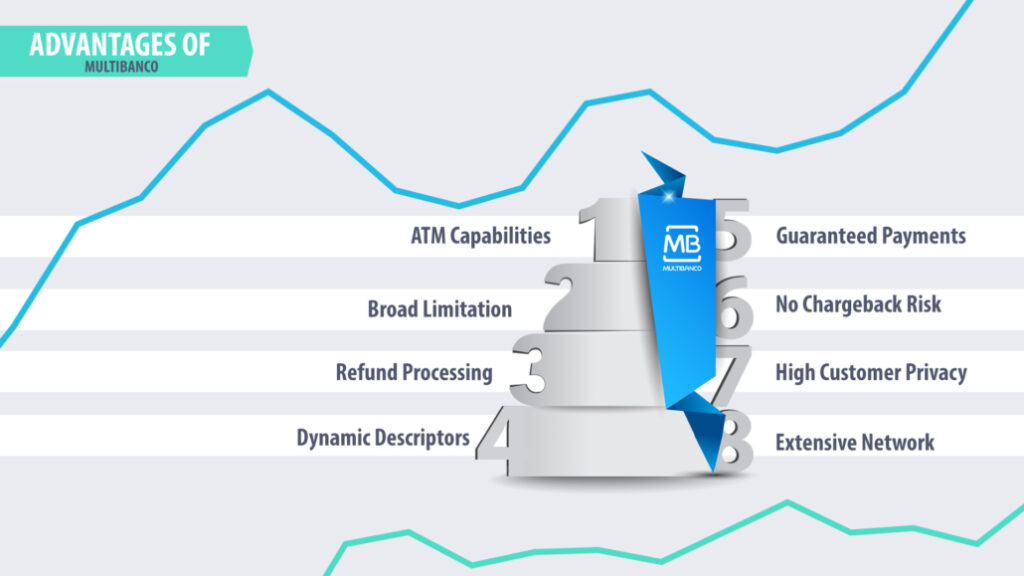 Advantages of MULTIBANCO
For any ecommerce business that has Portuguese customers, MULTIBANCO is an advantageous addition to your payment options. In fact, it has several advantages for retailers and customers alike.
ATM Capabilities – The ability for customers to pay at ATMs is a powerful draw for those who are more cautious about online security. It allows customers to bypass online payments entirely by completing them in person at an ATM instead.
Broad Limitation – Nearly every payment processing system has a minimum and maximum amount for each transaction. MULTIBANCO, however, has no minimum amount. The maximum is €99,999.99 per transaction. This makes it a versatile option for anyone other than those selling extremely high-value items.
Refund Processing – MULTIBANCO allows you to directly process refunds to customers as needed. This surprises some because it is a more closed, secure transaction, but the refund capabilities save you from the time-consuming and complicated business of finding other ways to send customers their money back.
Dynamic Descriptors – When customers use certain types of payment systems, the only information that appears in their bank records is the system's name and the dollar amount. It doesn't show them who they actually paid, so they're left to search their email confirmations and other sources for details. MULTIBANCO, on the other hand, allows you to include your business's name in the customer's records, making it easier for them to track their finances.
Guaranteed Payments – When customers complete a purchase with MULTIBANCO, remember that they're making the transaction directly through their bank. This allows their bank to immediately check their balance and remove the transaction amount. While it can take additional time for the payment to get to you, that payment is guaranteed in the meantime so you can send out your merchandise safely. Keep in mind, however, that the payment guarantee kicks in when the customer completes their end of the transaction, not when they check out and receive their voucher.
No Chargeback Risk – With credit cards, there is always a risk that a customer will falsely claim that their purchase was fraudulent, creating a chargeback and leaving you empty-handed. Multibanco does not allow chargebacks, however, giving you a more assured transaction.
High Customer Privacy – Unlike paying with credit cards or most other bank transfer systems, when customers buy through MULTIBANCO, they do not give you their banking information at any point. They do the opposite: they give their own bank your information to complete the payment. This is a marked improvement in security, and it's one that draws many customers who otherwise don't shop online.
Extensive Network – MULTIBANCO is extremely pervasive in Portugal, with the participation of every major bank throughout the country. This means that just about everyone in Portugal with a bank account can use MULTIBANCO with ease.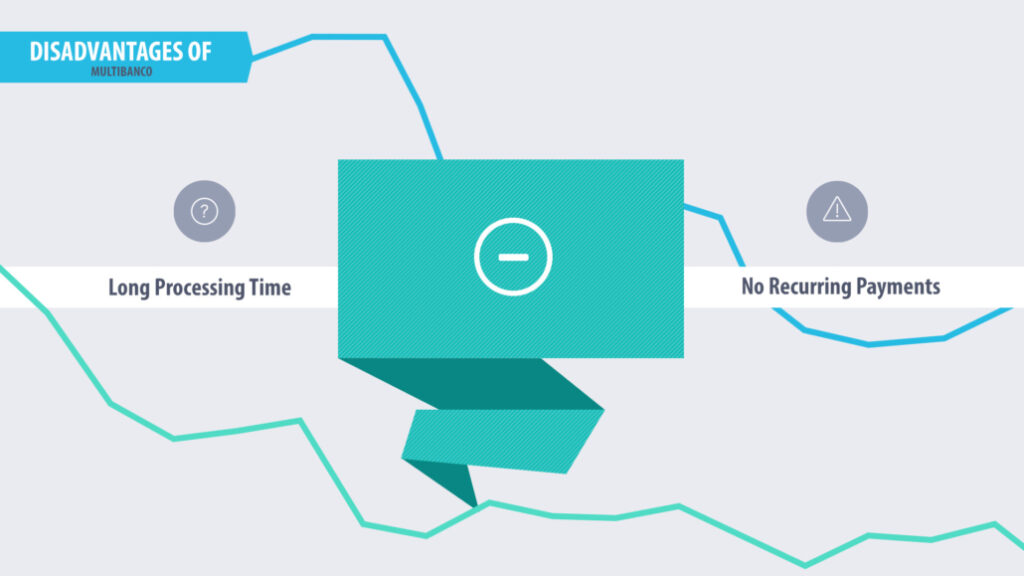 Disadvantages of MULTIBANCO
As popular and celebrated as MULTIBANCO is, every payment system has its disadvantages. While MULTIBANCO doesn't have many, it's still important to keep them in mind.
Long Processing Time – After customers check out, MULTIBANCO requires another step from them: making the payment. In many cases, they do this right away on their bank's website, but others may need to wait until they can reach an ATM. While you can set any expiry date on your vouchers, you'll want to allow at least a day or two for customers to get to an ATM. This means you could wait days before the transaction has been made and you can send their merchandise.
No Recurring Payments – To process a MULTIBANCO transaction, customers need to make each transaction separately. This means that you cannot create automatic recurring payments. Customers would need to use your vouchers to manually make each payment.
Opening the Door to Portuguese Customers with MULTIBANCO
MULTIBANCO is a widely popular payment system throughout Portugal, and it has opened up the ecommerce world to those who are hesitant about other online payments. By hopping on board and offering MULTIBANCO, you can open the door to those customers as well.
To learn more about MULTIBANCO or our other payment options, explore our site or apply for a Macropay quote today.