Most people know at least one or two people who refuse to shop online because they don't trust that their credit card information won't be stolen. It may be an extreme reaction, but they aren't wrong to be concerned. In fact, consumers worldwide lose around $30 billion per year to credit card fraud.
That doesn't mean online shopping isn't secure, though, because there are many payment options besides credit cards. Take POLi for example: a highly popular payment system for Australians and New Zealanders that provides secure transactions without a credit card
What is POLi?
POLi is a real-time online bank transfer payment system. It integrates with major banks throughout Australia and New Zealand, making it accessible to any of those banks' accountholders, although merchants can offer POLi from anywhere in the world.
Through POLi, the payment transfers directly from the customer's bank account to yours in a secure and fast way. You earn the business of a wider pool of consumers while your customers enjoy higher security.
How Does POLi Work?
A POLi transaction is rather simple. As a merchant, you'll have a POLi button on your site that users can select as their payment method. When a customer clicks it, they'll see a drop-down menu where they can select their bank.
The information for the transaction is then sent to the customer's bank, and they're redirected to their online banking site. When they log into their banking site, the transaction data such as the amount and payee is already filled in. The customer simply follows the prompts to confirm the transaction.
At this point, the customer's bank will verify the transaction and remove the funds from their account. The customer is then redirected back to your site to complete their shipping information or any other steps of the ordering process.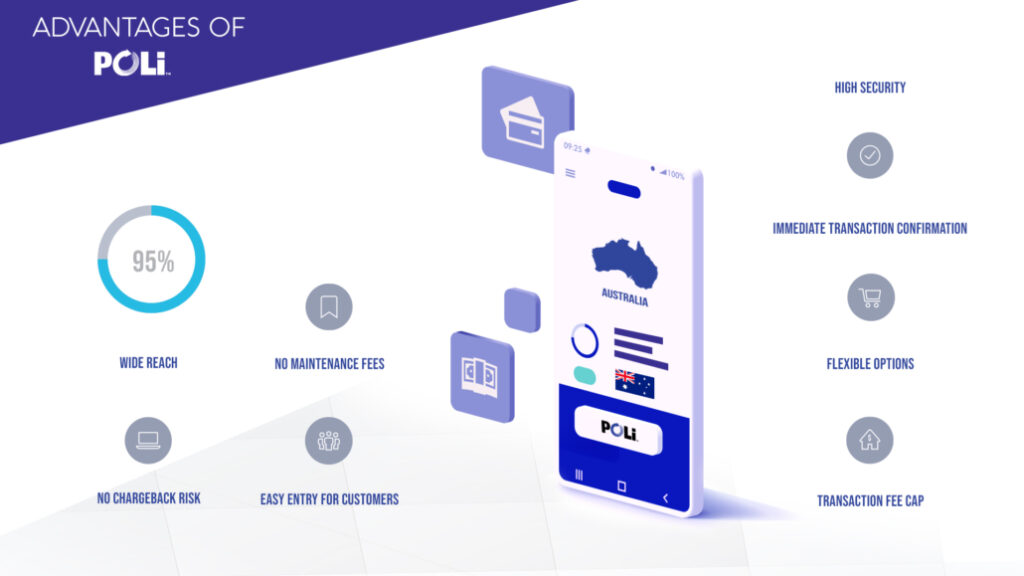 Advantages of POLi
Every merchant puts a lot of thought into their payment acceptance options. If you have Australians or Kiwis among your customers (or if you'd like to), there are many advantages to offering POLi.
Wide Reach – POLi integrates with 20 different banks throughout Australia and New Zealand. Because POLi can be used seamlessly by anyone who banks with one of those institutions, it expands your potential reach to about 95% of Australians and New Zealanders.
No Chargeback Risk – Chargebacks are a serious threat to online merchants, with unethical customers fraudulently denying valid purchases. Because POLi is a bank transfer system rather than a credit card system, though, it does not allow chargebacks.
Immediate Transaction Confirmation – The sooner a customer's payment processes, the sooner you can receive your revenue and start processing their order for shipment. With POLi, the customer's bank verifies the transaction in real-time, so you have a confirmation within seconds.
Easy Entry for Customers – Many customers are leery of adding yet another set of log-in data to their lives, so they rarely register for new sites and services. With POLi, there is no registration needed. Because the transaction is completed through the customer's bank, it is available for anyone who holds accounts with those banking partners.
Flexible Options – POLi is a system that is easy to use for merchants who use various types of business operations. If you're an online retailer, you can add a POLi button to your payment page on your site. However, if you do business through invoices instead, you can also get a POLi link to include on your invoices. Customers can simply click the link to pay through POLi.
High Security – Many customers are wary of giving anyone their credit card information, and that includes you and other merchants. With POLi, they don't need to. Their own bank processes the transaction and sends you the payment. At no point do you receive their banking information or card information. For security-minded customers, this could be the deciding factor between whether they buy from you or your competitors.
Transaction Fee Cap – Like most payment systems, POLi charges a fee for each transaction processed. Their standard rate is 1% of each transaction, but the fee is capped at $3. This makes POLi especially ideal for merchants who frequently have high-dollar transactions because you're likely to pay a lower percentage overall with POLi compare to other payment options. POLi also offers discounted rates for non-profit organizations, making them charity friendly as well.
No Maintenance Fees – Most payment systems have both a transaction fee for each transaction and an ongoing monthly fee. Many charge initial establishment fees as well before you begin offering the payment option. POLi, however, does not charge these additional fees. This means you only pay when you get paid, so it's a cash flow lifesaver.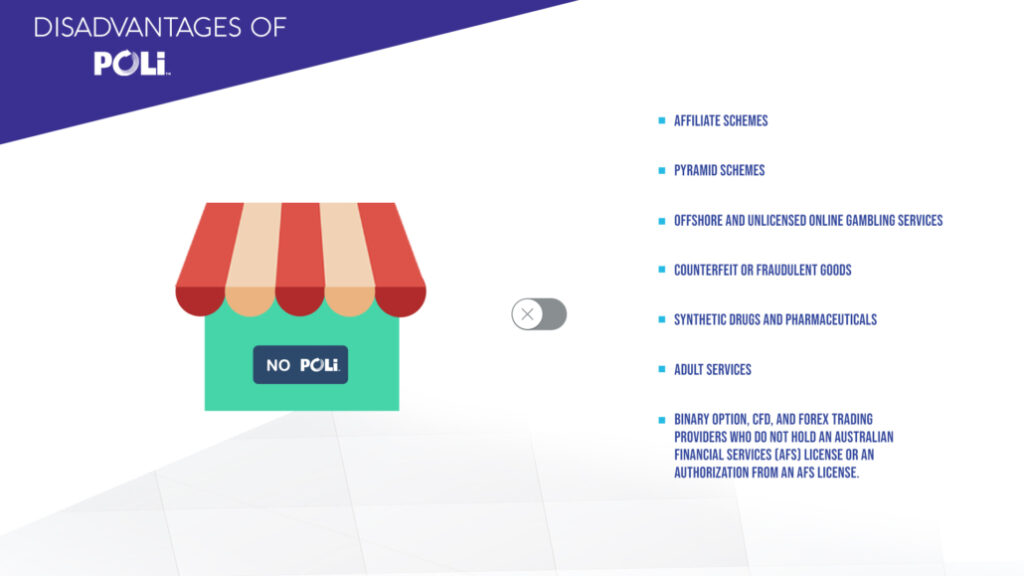 Disadvantages of POLi
As many benefits as POLi has, there are limitations to consider as well, as with any payment system. For POLi, the only major disadvantage is that there are restrictions for merchants in certain categories.
Specifically, you cannot offer POLi if your business is selling or is involved in these categories:
Offshore and unlicensed online gambling services
Affiliate schemes
Pyramid schemes
Counterfeit or fraudulent goods
Synthetic drugs and pharmaceuticals
Adult services
Binary option, CFD, and Forex trading providers who do not hold an Australian Financial Services (AFS) license or an authorization from an AFS license.
If you are involved in any of the categories above, you likely will not be able to offer POLi as a payment option to your customers.
Adding POLi to Your Payment Options
Every merchant knows that customers love options, and this isn't limited to the number of colors they can choose for a shirt they are buying. Offering more payment options allows you to open your doors to a wider number of customers. By adding POLi to your list, you give your business more opportunities to benefit from customers in Australia and New Zealand no matter where your company is based.
To learn more or to start integrating with POLi, get a Macropay quote today.