Have you ever wondered what turns away some potential customers from shopping on your online store? Why some may start shopping and abandon their cart or why others skim your site but never take the next step toward actual purchases?
There are countless reasons this could happen, but one common issue could be easier to fix than you think: concerns about payment security. Nearly anyone you meet has had fraudulent credit card charges at least once, and it's often traced back to an online merchant who didn't secure their data properly.
For that reason, some customers refuse to use their credit cards online, and if you don't offer alternatives, they'll shop with your competitors instead. Adding Sofort to your payment options could be the solution.
What Is Sofort?
Sofort's full name is Sofort GmbH. It's an online payment provider which connects directly and securely with the customer's own online banking system. The purchase is made through a bank transfer without the need for a credit card.
Sofort was first created in Munich in 2005, and it was later acquired by Klarna. While Sofort is the provider's German name, it goes by a translated name in various languages. In English-speaking countries, for instance, it's called Pay now.
How Does Sofort Work?
If you choose to offer Sofort to your customers, you'll implement it as an additional button among your payment options. Customers click the button and then they select their country and their bank from a drop-down list.
Inside the secure Sofort form, customers will enter their log-in credentials for their online banking site. After Sofort confirms that their log-in is correct, it sends the customer a confirmation code or TAN. They simply enter that TAN to confirm their purchase.
Sofort then verifies the payment with the customer's bank and if the funds are available, both you and the customer get a confirmation that the purchase is complete. The customer's bank then begins sending the funds to you.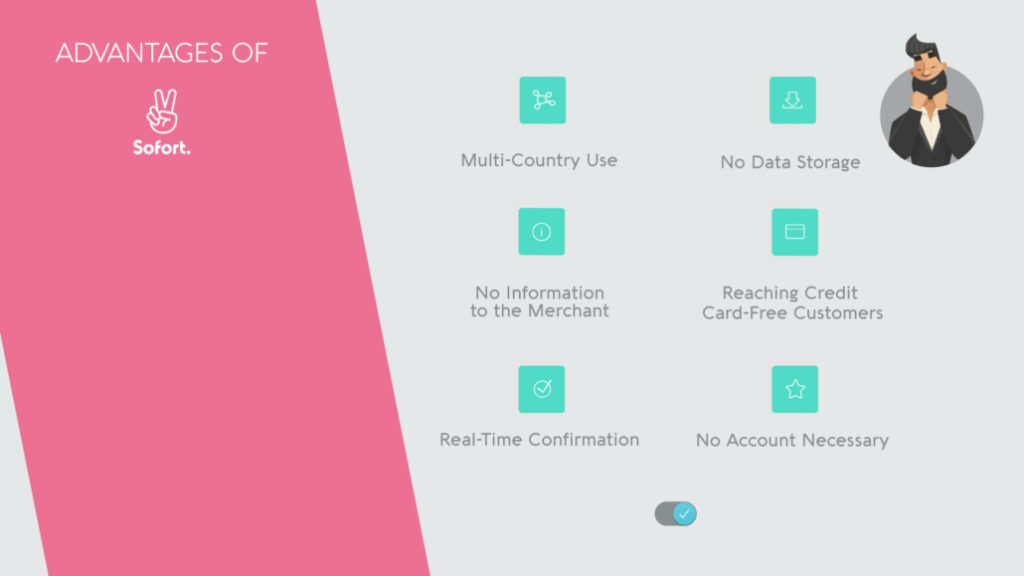 Advantages of Sofort
Every payment processing provider has its pros and cons, and the only way to choose the best ones for your shop is to weigh them all appropriately. Consider these benefits of offering Sofort.
Customer Gives No Information to the Merchant – Customers are understandably wary of giving merchants their credit card numbers and other personal data. After all, it seems that every day, there's news of another merchant whose data was compromised. With Sofort, the full transaction takes place in Sofort's secure form and in communication with the customer's bank. Customers feel more secure because they aren't giving you any payment data directly.
Reaching Credit Card-Free Customers – Many customers today don't have credit cards for any number of reasons. They may have poor credit and have difficulty getting a credit card or perhaps they feel that credit cards are insecure. With Sofort, all they need is a bank account with any of the banks that Sofort supports. This gives you access to these credit-card-free customers.
No Data Storage – In a Sofort transaction, no personal data is stored. The log-in details and transaction details are merely sent in an encrypted connection to the customer's bank for verification, but afterward, they aren't stored or accessible anywhere. This is one more added piece of security.
Real-Time Confirmation – The transaction process with Sofort is quick and efficient. Sofort confirms that the funds are available and sends you an immediate confirmation. There's no need to wait days before processing the order and sending the customer's purchases.
Multi-Country Use – Many online banking transfer systems focus on one specific country, and while they are popular within that country, this still limits your reach. Sofort, on the other hand, is available in 13 European countries, giving you a wide range of potential customers.
No Account Necessary – There's no need for customers to create a Sofort account to use the payment service. All they need is an online banking account with a participating bank. This makes Sofort particularly convenient and appealing for your customers.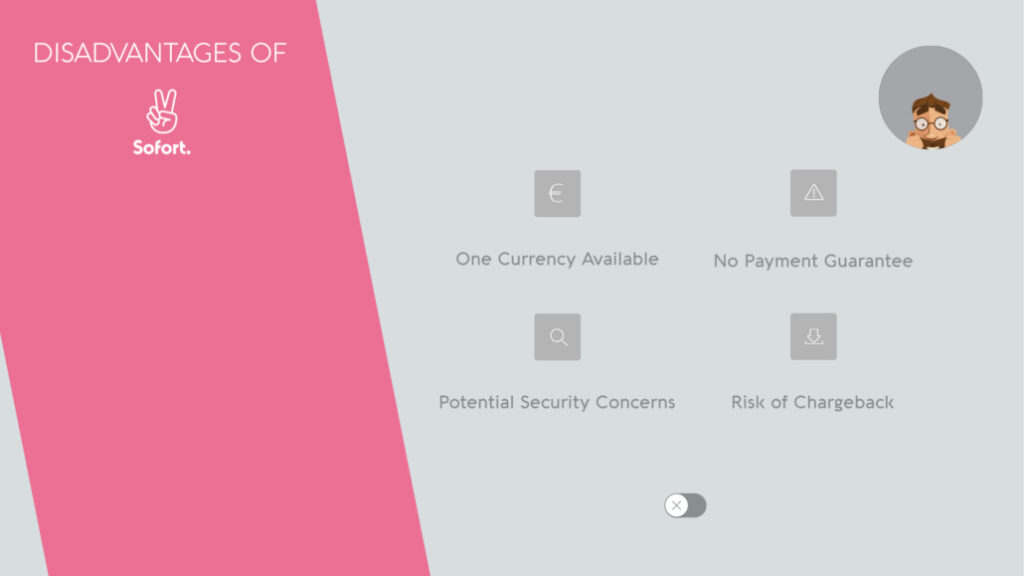 Disadvantages of Sofort
Every merchant will agree that there is no perfect payment system out there. While Sofort offers many exceptional advantages, there are a few disadvantages to consider too.
Potential Security Concerns – While Sofort does not require any data storage, it does require customers to enter their online banking details into the Sofort form and these details are sent to their bank for verification. This is a secure, encrypted process, but it's worth noting that some customers may still be unsure about the security of it.
Risk of Chargeback – Sofort has a purchase protection program stating that if customers are unhappy with their order or if they feel that a purchase was made fraudulently, Sofort will reverse their payment. This is a problem for merchants because this can be used as a method of theft by dishonest customers, and ultimately, your cost will lie in the hands of Sofort to determine whether the customer's claim is legitimate.
One Currency Available – Currently, Sofort exclusively processes transactions in euros and they exclusively operate in countries that use the euro. While there have been talks of Sofort potentially expanding its reach to more countries, it's unclear whether they will pursue countries that use other currencies or whether they will start supporting other currencies.
No Payment Guarantee – Many online transfer providers offer merchants a payment guarantee: after the customer's purchase has been verified, they guarantee that you'll receive the revenue. If the transaction fails after that point, the transfer provider covers the loss itself. Sofort, on the other hand, doesn't offer a payment guarantee.
Adding Sofort to Your Payment Options
Whether your e-commerce shop caters to a specific, well-defined niche or you offer products that anyone and everyone can love, you want to offer payment options that appeal to as many customers as possible. Adding Sofort to your options could be a step in that direction.
To learn more about Sofort by Klarna and how Macropay may be able to help, get a quote today.